Custom Made by Randall Knives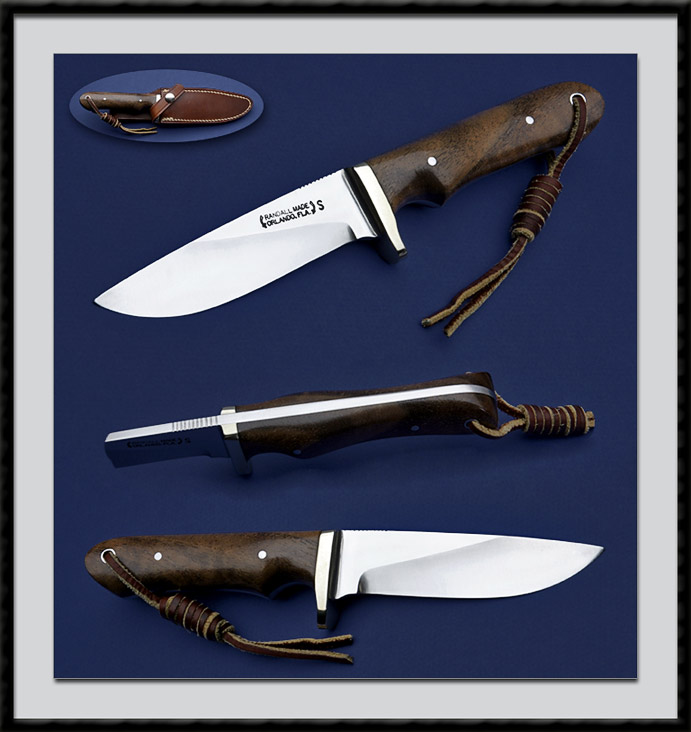 #KRAN000C
This is a not often seen Randall "1980" Griffin Drop-Point Handle Model or Single Finger Groove knife. BL = 4 1/4", OAL = 8 5/8", SS Blade, Distal taper, Tapered Tang, Nickel Silver Guard with an American Walnut Handle accented by 2 SS pins and a SS Lined Lanyard hole. Comes with the custom Randall Leather sheath pictured. Condition is Mint.
The following is more information supplied by the owner of this consigned piece,
"Here's one you won't see very often. Way back when, Bo Randall wanted to compete with the very popular Loveless drop point hunter. The result – the only full-sized knife produced by Randall with a full tang and slab scales. You will find reference to this rare Randall knife on page 279 of the Gaddis book, and on Page 18 of the now collectible Stidham catalog, and is commonly referred to as a "Special Drop Point" or "Griffin Drop Point".
This particular example was purchased from a Randall dealer (letter comes with the knife). It has a 4 ½" stainless blade with a drop point configuration, thumb notches, and a #3 style hilt is nickel silver. The handle is sculpted in the famous single-finger style designed by (then) shop foreman Dave Griffin. The walnut scales are attached to the full tang with two rivets and has a lined wrist thong hole. The supplied sheath is something of an anomaly – a 'B' style appropriate to the era, but marked 8-4.5 (did they make such a thing?).
The history I've been able to uncover so far is that a very limited number of these knives were produced in the late 1970's to early 80's, with a total production of around 125-130 knives (someone like Tom Clinton or Rhett Stidham should be able to confirm these numbers). The story is that these knives were very expensive to produce, costing the customer somewhere around $125, when a regular Randall hunter went for around $75. When sales didn't reach Bo's expectations, the knife was discontinued."
SOLD
---