RCK has a New Telephone number 774-565-7003.

Please note: If you don't receive a response email in 24 hrs check your JUNK/SPAM folder or call 774-565-7003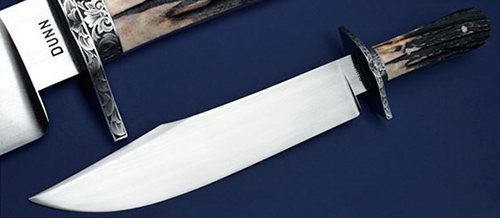 Custom Knives
custom knife | knife purveyor
have been the primary offering since RCK was established in 2002. Based in New England, south of Boston MA, RCK has an Eclectic Collection of
custom knives
along with a long list of knife makers. This list is comprised of accomplished World Class Blade Smiths as well as some very good "up and coming" makers. ABS Master and Journeyman smiths, American Knife Guild makers, including national and international blade smiths make up our list. Because RCK is primarily a consignment shop, I never really know what I'm getting in until it arrives. RCK does not offer special ordering of custom knives. In this case the customer should deal directly with the maker. All listed Custom Knives are in stock with very few exceptions. Each detail page has a link at the bottom to inquire if it is available. That's the first step in purchasing your knife.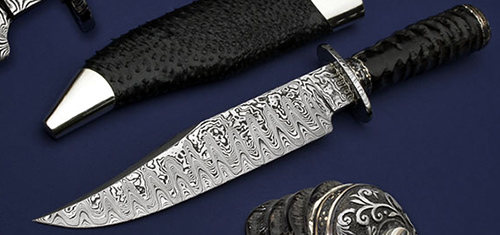 Consignment of Single Custom Knife & Multiple Custom Knives Private Collections.
RCK handles many consignments from a single custom knife to entire collections. Because the secondary market is vast and not all knives meet the standards of RCK, not every knife is accepted for consignment. Being a sort after "collectable" knife, having a high-grade order of "fit and finish" by a well-known maker, having qualities of an "art knife" and sometimes just being an elegant simple hunting knife can make the grade. All consignment transactions are made on an individual basis. Follow the link below for more information.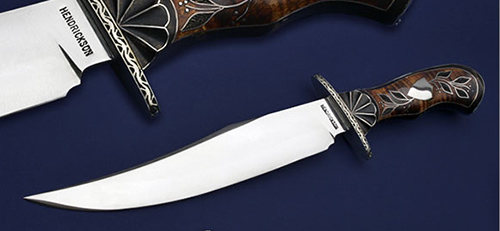 RCK's custom knives Lay-A-Way Plan, a way to buy that expensive treasure and not break the bank all at once.
As some Custom Knives are very expensive, RCK offers a Lay-A-Way plan. A way for you to purchase your Custom Knife and pay for it over time. Click the Link for "Lay-A-Way" under this text and you'll find information on how to do so. You'll find the typical way we handle Lay-A-Ways but we can be flexible for your knife purchase.
How the current website was created to view our inventory of custom knives.
While putting this new site together, I tried to keep a similar look and simplicity to it. With the help of Erich at Allwebco, I was able to integrate some very efficient ways to navigate through our inventory. As I'm not a web designer but a saxophonist by trade, I believe I bring a layman's eye to the design helping to keep things simple. Everyone thought the old site was easy to navigate and I trust the new site to be that too with it's custom menus.


Why is the Postage on my order Less than Quoted for my Custom Knife?
The shipping quote includes three area's, Handling - cost of materials and time to process, Insurance - we have a yearly policy to cover shipping insurance and lastly, the cost of shipping with a vendor. The Printed postage on an order only reflects one part of the actual shipping quote. I trust this will clearify your undertanding of what a shipping quote encompasses at RCK.


I want to purchase custom knives, Why no Cart?
Reason for not having on site purchases of Custom Knives.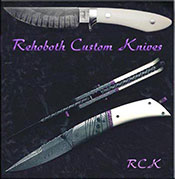 Not being able to purchase a custom knife directly from the website requires the customer to contact me to buy their knife. This is by design. I want to communicate with each customer to not only make a sale but create a "relationship". I don't want to sell you one custom knife but many over a long period of time. Besides having a great inventory, my only job is to provide stella service. I "try" with every sale to fulfill your expectations. Occasionaly something comes up that needs attending to which is the other half of my job. Taking care of all situations in a timely and hopefully satisfactory manor is what I strive for. I want you to enjoy your transaction with RCK and tell your friends!